Baby Bright Booster Mask Red Wine, Gluta, Vit C
BDT650.00
BDT1,300.00
-50%
Infant Bright Booster Mask Red Wine + Gluta + Vitamin C Skin 
Booster Clarity formula Enriched with concentrates of red wine produced using grape seed. 
Anti-oxidant to the skin to look more youthful. 
Glutathione. 
Diminish dull skin. 
More brilliant And vitamin C fixation. 
Decreases dim spots and smoothes out skin tone, giving a perfect, brilliant skin.
Product Info

Baby Bright Booster Mask Red Wine + Gluta + Vit C
Baby Bright doesn't stop at making your skin look bright and radiant,
but they also want to make sure it gets all the vitamins it needs.
This is why we looked for them in the most unusual places – for example,
in the Red Wine Extract from grapes. This one provides your skin with antioxidants
that make it look young while Glutathione Extract gets rid of the dull skin.
We also added a little bit of Vitamin C to it, so that you can easily say goodbye
to dark spots and enjoy a smooth skin with balanced tone.
Baby Bright Booster Mask Aloe Vera
The moisturizing formula that we're already known for was also used to create
this skin power booster mask that is rich in Aloe Vera Extract. It deeply nourishes your skin 
and makes it look radiant while providing it with the right degree of hydration it need throughout the day.
If you ever felt your skin being damaged by pollution and sunburn, 
this mask is perfect for you, as it decreases red and dark spots, as well as blemishes. 
Its amazing ability to fight against bacteria, which is the main cause of acne,
will guarantee a better-looking skin for you. Now you can cut all the acne products off your shopping list!
Baby Bright Booster Mask Gold & Snail
In creating this power booster mask, we used a formula that tones your skin using Gold and Snail Mucus Extract.
Both of them are able to revive your dull skin and improve its elasticity, so that your skin can look younger and more moisturized.
We all know the old saying, "the more, the better", and the same applies to the ingredients used to design this mask – one of them
would be good enough for you, but the combination between these two is simply amazing.
The combo can deeply nourish damaged skin due to pollution and sunburn while making it look firm and young!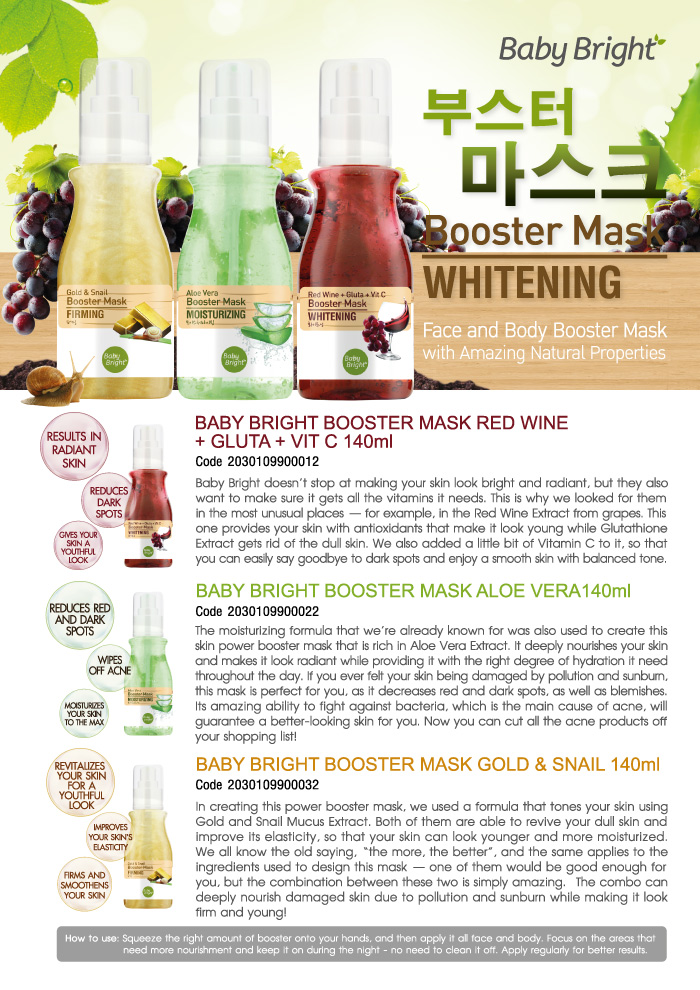 Weight

100ml

Made in

Korea

Ideal for

Unisex